A Message from
CEO, John McGuire
Since the founding of SEAL Team Physical Training in 1998, my mission has been to help people view fitness as a gateway to a better life.
I was born and raised in Richmond, VA. In high school I trained in karate, wrestled, ran cross country, raced bicycles, and played soccer. After High School I joined the US Navy and served 10 years as a US Navy SEAL. While a Navy SEAL I served around the world and became a Sniper Instructor. In addition to many endurance races, I trained in Wing Chung, Mui Thai, Jujitsu, and American-style boxing. While serving, my team and I trained hundreds of people worldwide to be their best, both physically and mentally. We experienced firsthand how the combination of teamwork and physical fitness can bring out the best in people.
Teamwork & Leadership
SEAL Team Physical Training is based on my personal experience and includes many exercise regimens practiced by Navy SEALs. If you keep fitness fun you are more likely to stick with it. We put a strong emphasis on teamwork, leadership, and confidence in our workouts.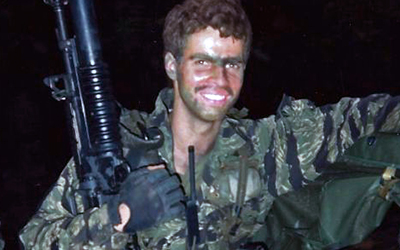 Former U.S. Navy SEAL Sniper John McGuire
Our Workouts
Every day is something different at a different place. Several Fitness Members have done tours in Iraq, Afghanistan, and other hot spots in the world. Others, who trained with us, are now actual US Navy SEALs, Army Special Forces, FBI agents, and several are serving in other military and law enforcement careers. It is always great to have these folks working out with us when they are in town. If someone saved your life, would the differences between you really matter? On our team everyone has value and we leave no-one behind.
Many have heard me say just because you are tired does not mean you are defeated. We bring people together and show them they can do more than they think, especially when they work as a team.
Our Members
The best thing about SEAL Team Physical Training is the people who participate. One member said she moved to Richmond, joined our program, and felt like she instantly had 100 friends.
You don't need to be an aspiring member of the US Armed Services to attend our program. A majority of our members are people just like yourself, individuals who are looking to improve their level of physical fitness. Our members have completed marathons and doing pull-ups for the first time in their lives. One particular woman could not complete one lap around a track when we met her. Recently she told me she lost 4 dress sizes and regularly runs 5k races.